Alfa Romeo 147 Fault Codes
---
You can find common Alfa Romeo 147 fault codes on this page that when clicked take you to a detailed description.
You can also type in the fault code you are getting below to find a more detailed description.
Search Alfa Romeo 147 Codes
Do you know the fault code already? Enter it in the box below and hit "Search Codes".
Alfa Romeo 147 Recalls
When a car manufacturer detects a problem with a model they put out a recall notice and more often than not offer to fix the problem free of charge.
You can check to see if your Alfa Romeo 147 has any recall notices on our sister site AutoRecalls.co, sorted by model year.
View Alfa Romeo 147 Recalls »
Common 147 Fault Codes
These are the most common 147 fault codes that people are searching for.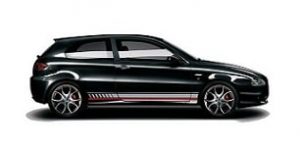 About the 147
Alfa Romeo's answer to the hugely popular small family car class, the 147, was first released in 2000. It then remained on the market for a decade before its discontinuation in 2010.
The 147 was met with fairly unanimous praise after its release, going so far as to win over 20 awards. Another notable achievement the model received was being voted one of the 2001 European Car of the Year.
While there was only a single generation to hit the markets, Alfa released a hot hatch variant called the 147 GTA to compete with the hot hatch versions of the Ford Focus, Volkswagen Golf, and Honda Civic.
One of the most commonly reported issues for the 147 is fault code P0340, which represents a malfunctioning camshaft position sensor.
This can lead to some serious issues with driveability if left unchecked. Thankfully, most owners have reported that replacing a defective camshaft position sensor is the main solution. In some cases, faulty wiring in the sensor circuit can also be the culprit.
Fault code P0115 is another common problem for the model. This can cause the model to overheat and go into limp mode. Some owners have reported a faulty thermostat as the primary cause.
Interestingly, another fairly common fault code is P0235, which is a turbocharger boost sensor malfunction. What makes this interesting is the fact that only one version of the 147 was fitted with a turbocharger system, yet it is still one of the most commonly searched codes.
Like the first code mentioned, the main thing to check is the sensor and its circuit for electrical faults. Another fairly commonly reported cause is from leaks in the piping within the turbocharger system.