You can find common Peugeot 407 fault codes on this page that when clicked take you to a detailed description.
You can also type in the fault code you are getting below to find a more detailed description.
Search Peugeot 407 Codes
Do you know the fault code already? Enter it in the box below and hit "Search Codes".
Peugeot 407 Recalls
When a car manufacturer detects a problem with a model they put out a recall notice and more often than not offer to fix the problem free of charge.
You can check to see if your Peugeot 407 has any recall notices on our sister site AutoRecalls.co, sorted by model year.
View Peugeot 407 Recalls »
Common 407 Fault Codes
These are the most common 407 fault codes that people are searching for.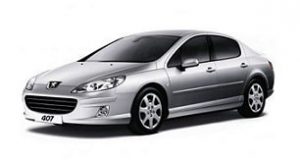 About the 407
A large family car, the 407 was created and manufactured by the French automaker Peugeot.
Available as a saloon, coupe or estate, the 407 directly replaced the older 406 and received some comments regarding the sleek design.
Seen as radical, the styling of the new 407s had a sharply sloping back with large sweeping headlights reaching half way up the bonnet.
The estate version had a slightly different name, the 407 SW (for station wagon), and was launched just a few months after the saloon.
As a result of a then-recent investment of 1.12 billion euros into the PSA Group, the 407 benefitted from new safety features and technologies.
As a result, Euro NCAP scores proved good with an overall five stars for safety.
A number of engines could be purchased, in total 9 engine variants were created ranging 1.8-liter to 3-liters for petrol and 1.6-liter to 3-liter for diesels; all of which can be coupled with a five-speed or six-speed manual transmission, a 4-speed PSA automatic and a 6-speed Aramox automatic.
Offering excellent value for such a substantial car, there were few alternatives, however, there were some, these could be found in the Vauxhall Vectra, Opel Insignia and the Ford Mondeo.
Some fault codes associated with this car are: