Mercedes Benz EQA Fault Codes
---
You can find common Mercedes Benz EQA fault codes on this page that when clicked take you to a detailed description.
You can also type in the fault code you are getting below to find a more detailed description.
Search Mercedes Benz EQA Codes
Do you know the fault code already? Enter it in the box below and hit "Search Codes".
Mercedes Benz EQA Recalls
When a car manufacturer detects a problem with a model they put out a recall notice and more often than not offer to fix the problem free of charge.
You can check to see if your Mercedes Benz EQA has any recall notices on our sister site AutoRecalls.co, sorted by model year.
View Mercedes Benz EQA Recalls »
Common EQA Fault Codes
These are the most common EQA fault codes that people are searching for.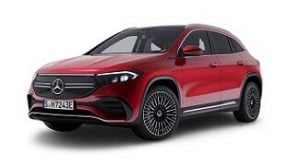 About the EQA
Closely Related to the GLA, the EQA is a subcompact luxury crossover SUV designed and marketed by the German car manufacturer Mercedes-Benz.
ICE-powered, the EQA offers two battery variants, a 66.5 kWh lithium-ion and a 70.5 kWh lithium-ion both twinned with a single-speed fixed ratio transmission.
Following a full charge, each powertrain has differing ranges, capable of traveling 265 miles up to 340 miles.
Initially only available for the Chinese market, the EQA was originally named the EQA 250 with electric motors powering the front wheels and an output of 190 BHP.
In March 2022, Mercedes announced a car with a larger battery and therefore a longer range estimating a total journey on one charge of up to 540 km.
The platform on which the EQA was built was fairly new for the time; Mercedes began making use of this platform in 2013 with cars like the S-Class, Maybach S-Class, C-Class and the GLC-Class.
Buyers could add a number of packages to their new EQAs, for example, the extra Driving Assistance Package came with active distance assist, active blind spot assist with exit warning function, steering assist, brake assist, steering assist, lane keeping assist and pedestrian warning function.
Adding a trailer coupling with ESP trailer stabilization allowed for the more active drivers to transport caravans and cycle racks to the vehicle; then folds behind the rear bumper when not in use.
Some usual error codes found with the EQA are: