Mercedes Benz CLK-Class Fault Codes
---
You can find common Mercedes Benz CLK-Class fault codes on this page that when clicked take you to a detailed description.
You can also type in the fault code you are getting below to find a more detailed description.
Search Mercedes Benz CLK-Class Codes
Do you know the fault code already? Enter it in the box below and hit "Search Codes".
Mercedes Benz CLK-Class Recalls
When a car manufacturer detects a problem with a model they put out a recall notice and more often than not offer to fix the problem free of charge.
You can check to see if your Mercedes Benz CLK-Class has any recall notices on our sister site AutoRecalls.co, sorted by model year.
View Mercedes Benz CLK-Class Recalls »
Common CLK-Class Fault Codes
These are the most common CLK-Class fault codes that people are searching for.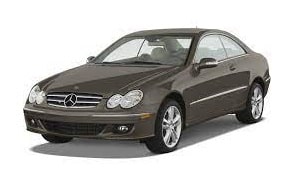 About the CLK-Class
The CLK-Class first made its debut as an entry-level luxury coupe in 1997. It was later discontinued in 2010 due to the release of the E-Class Cabrio. The 2-door coupe or convertible can be considered a C-Class version of its bigger sibling, the SLK-Class.
During its time on the market, there were only two generations released. The second iteration made its debut in 2003.
Of course, Mercedes also released a high-performance version called the CLK55 AMG, which featured a huge 5.4-liter V8 engine that was made by hand.
Having a handbuilt engine obviously comes with its pros and cons. Unfortunately, this is one of the most common issues for the CLK-Class. Fault code P0300 indicates that there are multiple and random misfires occurring in the engine.
This is a fairly broad problem as anything that can disrupt the ideal air-fuel mixture can cause this type of issue. This can also be caused by an upstream fault in the ignition system.
Some owners forget to replace their spark plugs frequently enough, which is one of the most common causes of this problem.
The next most common issue is also a broad one. Fault code P0173 indicates that there is a problem with the air-fuel mixture in the second bank of the engine. Again, anything that disrupts the air-fuel mixture upstream can be the cause.
Problems with the MAF sensor and leaks in the vacuum are some of the most common causes of fuel trim issues. Owners have also found the cause within the fuel system not providing sufficient fuel.
In some cases, these types of issues can be caused by faulty oxygen sensors.