You can find common Kia Spectra fault codes on this page that when clicked take you to a detailed description.
You can also type in the fault code you are getting below to find a more detailed description.
Search Kia Spectra Codes
Do you know the fault code already? Enter it in the box below and hit "Search Codes".
Kia Spectra Recalls
When a car manufacturer detects a problem with a model they put out a recall notice and more often than not offer to fix the problem free of charge.
You can check to see if your Kia Spectra has any recall notices on our sister site AutoRecalls.co, sorted by model year.
View Kia Spectra Recalls »
Common Spectra Fault Codes
These are the most common Spectra fault codes that people are searching for.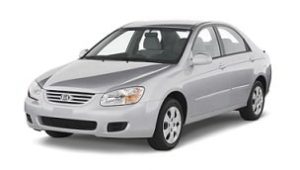 About the Spectra
The Spectra was first released in 2000 as the successor to the Kia Sephia. It then remained on the market until 2009, when it was replaced by the Forte.
The model saw two generations hit the markets, with the latest iteration making its debut in 2004. This version was also called the Kia Cerato in certain markets.
Because of the Spectra's relatively confusing history and its various nameplates, it can be hard to track its competition. However, most of these came from Kia's typical rival manufacturers. The most notable of these included the Hyundai Accent, Nissan Sentra, and Mitsubishi Mirage.
One of the most common and serious fault codes that they faced is P0340, which indicates that there is an issue with the camshaft position sensor.
In some cases, both of these codes will be logged together, which can be a clear indication that the camshaft position sensor needs replacing. This can also be caused by electrical issues in the sensor's circuit.
The Spectra was also prone to another camshaft position problem, P0011. This code indicates that the intake camshaft is over-advanced. Again, this can be caused by a faulty camshaft position sensor, but there is likely a more complicated cause at hand.
One of the most commonly reported causes for the problem is an old, worn timing belt.
Because Kia shares a number of mechanical similarities with Hyundai models, both of these codes have been known to plague both these manufacturers' cars.
Another fairly serious issue was P0420, which represented a malfunction with the catalytic converter.
In some cases, owners were able to attribute this to exhaust leaks before the converter. However, it is very likely that a failing converter is the primary cause of the code.