You can find common Dacia Duster fault codes on this page that when clicked take you to a detailed description.
You can also type in the fault code you are getting below to find a more detailed description.
Search Dacia Duster Codes
Do you know the fault code already? Enter it in the box below and hit "Search Codes".
Dacia Duster Recalls
When a car manufacturer detects a problem with a model they put out a recall notice and more often than not offer to fix the problem free of charge.
You can check to see if your Dacia Duster has any recall notices on our sister site AutoRecalls.co, sorted by model year.
View Dacia Duster Recalls »
Common Duster Fault Codes
These are the most common Duster fault codes that people are searching for.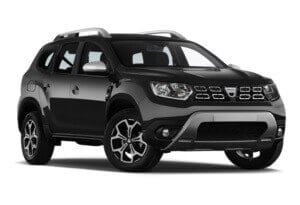 About the Duster
Built by the French company Renault, the Duster is the creation of the Russian subsidiary Dacia.
Sold from 2010, first generations were built upon the B0 Platform along with cars like the Nissan Cube, Micra, Renault Captur, Renault Clio, Renault Modus, Renault Wind, Renault Zoe, Nissan Bluebird Sylphy, Livinia, Note, Tiida, Wingroad and the Nissan Juke.
Measuring 4.31 meters in length, the Duster could be purchased as either a two-wheel drive or as a four-wheel drive with a large cargo capacity of 475 liters (if the back seats are folded down). Following the Euro NCAP tests, the Dacia received a rather disappointing three stars out of a potential five with the child occupant scoring 4% higher than the adult safety (a fairly uncommon result).
The second generation looked sleeker and launched in 2017. Using similar dimensions as its predecessor, the new Dacia had updated cladding and a number of new features like Multiview camera system, blind spot alter, keyless entry, automatic climate control and daytime running lights. Safety scores were actually worse, this time the child safety was lower than the adults following crash testing which was disappointing because when compared to its rivals, it was a poor result.
A single cab pickup version became available in October 2020, these were developed in conjunction with a Romain engineering company (a company usually associated with coach building).
Some usual fault codes that can be seen from this vehicle are: