You can find common Cadillac XTS fault codes on this page that when clicked take you to a detailed description.
You can also type in the fault code you are getting below to find a more detailed description.
Search Cadillac XTS Codes
Do you know the fault code already? Enter it in the box below and hit "Search Codes".
Cadillac XTS Recalls
When a car manufacturer detects a problem with a model they put out a recall notice and more often than not offer to fix the problem free of charge.
You can check to see if your Cadillac XTS has any recall notices on our sister site AutoRecalls.co, sorted by model year.
View Cadillac XTS Recalls »
Common XTS Fault Codes
These are the most common XTS fault codes that people are searching for.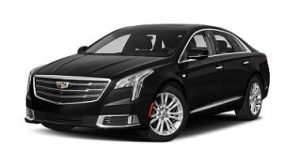 About the XTS
The XTS first made its debut in 2013 and remained on the market as a single generation until 2019. Cadillac then replaced it with the CT5 in order to reserve the 'XT' moniker for their Crossover Touring SUV range like the XT6.
Despite only a single generation being released, the model received a notable facelift in its final year of production.
Additional variants included the high-performance XTS V-Sport and the long-wheelbase XTS-L.
Competition typically came from other luxury full-size sedans. The most notable of these included the BMW 5-Series, Lincoln Continental, Mercedes-Benz E Class, and the Volvo S90.
The most common issue that XTS owners have faced is P0442. This code indicates that there is a small leak in the evaporative emissions control (EVAP) system. This is a very common issue for a lot of Cadillac models.
In most cases, it is caused by either a loose or defective gas cap.
In addition to this, fault code P0496 indicates that there is purge flow during a non-purge condition.
This code typically means that there is an issue with the purge control valve. However, if these codes are logged together, it can mean that there is a leak causing both codes. Again, checking the gas cap should always be the first step in addressing these issues.
Another problem that the XTS is prone to suffering is P0171. This code means that the first bank of the engine is running too lean.
A technical service bulletin (TSB) was issued for models manufactured between 2015 and 2018 fitted with the 3.6 LFX engine for this code.
As per the TSB, the cause is a possible vacuum leak in the intake manifold. However, it can also be caused by a faulty purge valve like with the previous code.