You can find common Cadillac XT5 fault codes on this page that when clicked take you to a detailed description.
You can also type in the fault code you are getting below to find a more detailed description.
Search Cadillac XT5 Codes
Do you know the fault code already? Enter it in the box below and hit "Search Codes".
Cadillac XT5 Recalls
When a car manufacturer detects a problem with a model they put out a recall notice and more often than not offer to fix the problem free of charge.
You can check to see if your Cadillac XT5 has any recall notices on our sister site AutoRecalls.co, sorted by model year.
View Cadillac XT5 Recalls »
Common XT5 Fault Codes
These are the most common XT5 fault codes that people are searching for.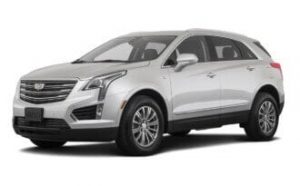 About the XT5
The XT5 first made its debut at the Dubai Motor Show and the LA Auto Show 2016. Cadillac has only released a single generation of the compact crossover SUV since then.
The model became Cadillac's best-selling offering both in the United States and globally just a year after its release. It also represents the first Crossover Touring (XT) model to be released by the American luxury carmaker.
Because of its success, it has gone up some big names in an already packed crossover class. The most notable of these include the Porsche Macan, Genesis GV70, BMW X3, and Volvo XC60.
During its time on the market, it has suffered from some common issues. The most notable of these is P0024. This code indicates that the exhaust camshaft in the second bank of the engine is over-advanced.
This code can only be logged by the American version fitted with the 3.6L V6.
One of the most common causes of this issue is incorrect maintenance when it comes to the engine oil. Old or contaminated oil can easily cause timing issues like this to arise. Owners have also reported that a stretched timing chain is something to check for.
Similarly, P0014 represents the same issue for the first bank exhaust camshaft.
If both of these codes are logged together it is likely that there is a timing issue like the ones listed above.
Another issue that some Cadillac engines have suffered from is P0128. This code indicates that the engine coolant temperature has not reached the operating temperature fast enough.
In most cases, this is a clear sign that the thermostat is not working properly and needs to be replaced. It is also possible that the coolant levels are incorrect.