You can find common Cadillac CT4 fault codes on this page that when clicked take you to a detailed description.
You can also type in the fault code you are getting below to find a more detailed description.
Search Cadillac CT4 Codes
Do you know the fault code already? Enter it in the box below and hit "Search Codes".
Cadillac CT4 Recalls
When a car manufacturer detects a problem with a model they put out a recall notice and more often than not offer to fix the problem free of charge.
You can check to see if your Cadillac CT4 has any recall notices on our sister site AutoRecalls.co, sorted by model year.
View Cadillac CT4 Recalls »
Common CT4 Fault Codes
These are the most common CT4 fault codes that people are searching for.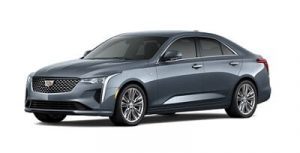 About the CT4
One of Cadillac's latest releases, the CT4 made its debut in 2019. The luxury compact has only had one generation released since then with no news of a new model coming soon.
In terms of Cadillac's new lineup, it sits at the bottom of the sedan offerings, just below the CT5 and CT6. The model also represents the successor to the now-discontinued ATS.
As with most of the American luxury carmaker's models, it is also sold in high-performance variants. These include the CT4-V and the CT4-V Blackwing.
Competition for the model comes mainly from its German rivals. These include the Audi A3 and BMW 2-Series. However, the Acura Integra also comes to mind often.
It is important for owners of CT4 models from 2020 to 2022 to note that there is a technical service bulletin about a Check Engine light issue. This is caused by the break-in period for the coolant flow control valve.
Aside from this, fault code P0017 is a commonly reported issue. This code indicates that the signals from the exhaust camshaft position sensor and crankshaft position sensor do not correlate.
In most cases, this is caused by a faulty position sensor on either one of the shafts. However, it can also be caused by a stretched timing chain,which can be fairly common for Cadillac engines, or issues with the engine oil.
Another common fault code for the CT4 is P0161. This code indicates that the post-catalytic converter oxygen sensor in the second bank of the engine is likely malfunctioning.
Again, this is typically the result of a faulty sensor. Owners have reported that simply changing the sensor is a possible solution for the issue.