You can find common Cadillac XT4 fault codes on this page that when clicked take you to a detailed description.
You can also type in the fault code you are getting below to find a more detailed description.
Search Cadillac XT4 Codes
Do you know the fault code already? Enter it in the box below and hit "Search Codes".
Cadillac XT4 Recalls
When a car manufacturer detects a problem with a model they put out a recall notice and more often than not offer to fix the problem free of charge.
You can check to see if your Cadillac XT4 has any recall notices on our sister site AutoRecalls.co, sorted by model year.
View Cadillac XT4 Recalls »
Common XT4 Fault Codes
These are the most common XT4 fault codes that people are searching for.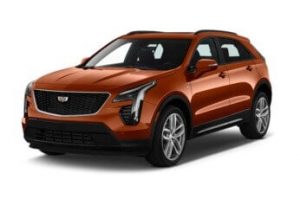 About the XT4
The XT4, also known as the Crossover Touring 4, first hit the market in 2018. Of course, only a single generation has been released since then.
The model is currently produced and sold in both the United States and China.
As its name suggests, it sits below both the XT5 and XT6 in the Cadillac lineup. Competition from outside of the family typically comes from the likes of the BMW X1, Mercedes-Benz GLB-Class, and the hugely popular Volvo XC40.
Models produced in 2019 are notorious for suffering the fault code P0441. This code is logged when there is incorrect purge flow during a non-purge flow condition in the EVAP system. This resulted in a technical service bulletin (TSB) being issued.
As per the TSB, this code will be caused by a faulty capacitor in the purge pump printed circuit board. The bulletin goes on to state that dealers need to replace the emission purge pump to fix this issue under warranty.
Another common issue for the model is P0430. This code indicates that the second catalytic converter is not performing correctly.
This code is often caused by wear and tear, particularly on higher-mileage models. It can also be caused by exhaust leaks upstream of the catalytic converter in the second bank of the engine, as well as faulty oxygen sensors.
Fault code P0410 is also a common problem. This code is logged when the powertrain control module has detected a malfunction from the secondary air injection system.
Thankfully, this code is not a severe problem, meaning owners can fix it somewhat at their leisure. This helps given the broad nature of the code.