You can find common Cadillac CT5 fault codes on this page that when clicked take you to a detailed description.
You can also type in the fault code you are getting below to find a more detailed description.
Search Cadillac CT5 Codes
Do you know the fault code already? Enter it in the box below and hit "Search Codes".
Cadillac CT5 Recalls
When a car manufacturer detects a problem with a model they put out a recall notice and more often than not offer to fix the problem free of charge.
You can check to see if your Cadillac CT5 has any recall notices on our sister site AutoRecalls.co, sorted by model year.
View Cadillac CT5 Recalls »
Common CT5 Fault Codes
These are the most common CT5 fault codes that people are searching for.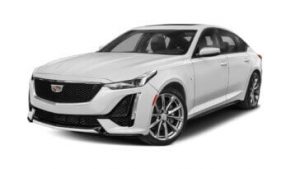 About the CT5
The CT5, not to be confused with the CTS, first made its debut in 2019. The luxury offering from General Motors represents the successor to the CTS. It currently represents the larger version of the CT4, while still being smaller than the CT6.
Since its release, there has only been a single generation to hit the market. However, there have been two high-performance versions called the CT5-V and CT5-V Blackwing.
Competition comes from a number of luxury sedan offerings. The most notable of these include the BMW 3-Series, Audi A5, Genesis G70, and Mercedes-Benz C-Class.
One of the most common issues for the model is P0455. This code indicates that there is a gross leak in the evaporative emission control (EVAP) system.
This is often caused by a faulty or loose gas cap, making this the first thing that owners should check. However, it can require a smoke test to help pinpoint the source of the leak.
Another common problem is indicated by P0058. This code is logged when the heater circuit for the second oxygen sensor in the second bank of the exhaust has a high-voltage signal.
This is the oxygen sensor that is found after the catalytic converter. In most cases, this fault code will require owners to replace the oxygen sensor.
Fault code P0012 is another fairly commonly reported problem – and it is a serious one. This code indicates that the intake camshaft in the first bank of the engine is over-retarded.
The code can typically be the result of a timing issue like a stretch timing chain or old engine oil. However, it is also possible that the camshaft position sensor may need to be replaced.