You can find common Suzuki Jimny fault codes on this page that when clicked take you to a detailed description.
You can also type in the fault code you are getting below to find a more detailed description.
Search Suzuki Jimny Codes
Do you know the fault code already? Enter it in the box below and hit "Search Codes".
Suzuki Jimny Recalls
When a car manufacturer detects a problem with a model they put out a recall notice and more often than not offer to fix the problem free of charge.
You can check to see if your Suzuki Jimny has any recall notices on our sister site AutoRecalls.co, sorted by model year.
View Suzuki Jimny Recalls »
Common Jimny Fault Codes
These are the most common Jimny fault codes that people are searching for.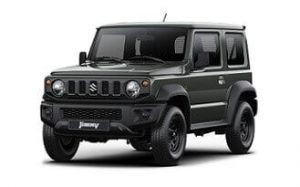 About the Jimny
Known as a Kei Class Car, the Jimny belongs to the lineup of small highway-legal cars in Japan, many of these vehicles are well-known thanks to their stand-out and in some cases bizarre looks.
Dating back to 1958, Kei cars included some popular models such as the Subaru 360, Honda Life Step Van, the Suzuki Jimny LJ10, Subaru Sambar (mini truck), Suzuki Alto, Daihatsu Taft, Honda N-One, Mitsbishi Ek x Space, Nissan Dayz, Toyota Pixis Joy and the Suzuki Wagon R.
The first generation of Jimnys sold onwards from 1970 and could be purchased as either a 2-door wagon, 2-door convertible or as a 2-door cab chassis.
Only one four-speed manual transmission was available with the smallest engine size only 359cc and the most powerful, 797cc.
Various updates took place within the first 12 years of production, each modification given its own code name to distinguish it from its predecessors such as the LJ10, LJ20, SJ10 and finally SJ20.
Interestingly, today's models are easily recognizable as Suzuki has retained the boxy world war II stylings of the original.
Models sold up until 2018 were more curved with softer lines but now, the canvas roof has been dropped, much to the annoyance of hard-core fans, and Suzuki now only offers the Jimny as a hard top four-seater, four-wheel drive.
For the European markets, the Jimny was removed from sale due to a failing of the stringent EU emission testing.
Suzuki replaced the passenger Jimny with its commercial counterpart (a loophole in the Emission scoring) and can now only be purchased only as a two-seat minivan.
Common error codes for the Jimny are: