SEAT Ateca (incl. Cupra) Fault Codes
---
You can find common SEAT Ateca (incl. Cupra) fault codes on this page that when clicked take you to a detailed description.
You can also type in the fault code you are getting below to find a more detailed description.
Search SEAT Ateca (incl. Cupra) Codes
Do you know the fault code already? Enter it in the box below and hit "Search Codes".
SEAT Ateca (incl. Cupra) Recalls
When a car manufacturer detects a problem with a model they put out a recall notice and more often than not offer to fix the problem free of charge.
You can check to see if your SEAT Ateca (incl. Cupra) has any recall notices on our sister site AutoRecalls.co, sorted by model year.
View SEAT Ateca (incl. Cupra) Recalls »
Common Ateca (incl. Cupra) Fault Codes
These are the most common Ateca (incl. Cupra) fault codes that people are searching for.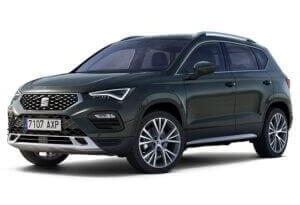 About the Ateca (incl. Cupra)
The Ateca first made its debut in 2016. Since then, only a single generation of the crossover SUV has hit the markets. This version also received a facelift in 2020.
It has also been sold as the Cupra Ateca, which is a high-performance sub-brand that produces models based on SEAT. It also represents the first SUV model in the SEAT lineup.
In the compact crossover, competition for the Ateca has typically come from the likes of the Nissan Qashqai, Peugeot 3008, Kia Sportage, and Volkswagen Tiguan.
The most common issue for the model is P0420. This code typically indicates that the catalytic converter is malfunctioning.
This is often the result of faulty oxygen sensors. However, it can also be caused by a failing catalytic converter, particularly with models with higher mileage. Exhaust leaks can also be the culprit.
P0171 has also been reported by owners fairly often. This code indicates that the engine is running too lean.
This can be a very frustrating code to fix as its potential causes can be extensive. Owners should check common issues like the fuel filter and pump for any blockages or similar issues. However, the list of potential causes can be very long.
Fault code P0229 is another common issue for the Ateca, like other SEAT models. This fault code indicates that there is not enough pressure coming from the turbocharger system.
In many cases, owners have reported that a failing turbocharger is the main cause of this problem. However, there can be other faults like a faulty wastegate bypass regulator valve.