Jeep Gladiator Fault Codes
---
You can find common Jeep Gladiator fault codes on this page that when clicked take you to a detailed description.
You can also type in the fault code you are getting below to find a more detailed description.
Search Jeep Gladiator Codes
Do you know the fault code already? Enter it in the box below and hit "Search Codes".
Jeep Gladiator Recalls
When a car manufacturer detects a problem with a model they put out a recall notice and more often than not offer to fix the problem free of charge.
You can check to see if your Jeep Gladiator has any recall notices on our sister site AutoRecalls.co, sorted by model year.
View Jeep Gladiator Recalls »
Common Gladiator Fault Codes
These are the most common Gladiator fault codes that people are searching for.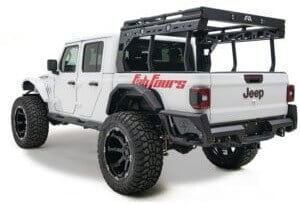 About the Gladiator
The Jeep Gladiator entered the market only a few years ago in 2020. It represents a pickup truck version of the iconic SUV which it takes inspiration from – the iconic Jeep Wrangler.
Jeep had originally manufactured a pickup truck under the same name between 1962 and 1988. Despite being released in 2020, the concept for a revival of the model was unveiled in 2004.
The model has competed with the Wrangler since its release because of their similarities. Competition from outside of Jeep has included the Ford Ranger, Chevrolet Colorado, Nissan Frontier, and Toyota Tacoma.
Despite being a new model, the Gladiator is fitted with engines that have been around for a while. This means they are prone to some well-known issues. The first and most common is P0300, which indicates that multiple random misfires have occurred recently.
This issue is so common that Jeep released a technical service bulletin to address it. Models manufactured in 2021 typically require a new set of spark plugs, which solves the issue.
In addition to this, P0304 is a fairly commonly searched issue. This code indicates that a misfire has occurred in the fourth cylinder.
If these two codes were logged together, a new set of spark plugs will likely be the solution.
The next most common fault code is one that many American vehicles log. Fault code P0456 indicates that a small leak in the EVAP system has been detected.
Thankfully, this is most often caused by a loose or defective fuel cap. In some cases, the cap needs to be replaced if it cannot form a proper seal. However, some Gladiator owners have reported that the purge valve can become stuck easily.