Chevrolet Spark Fault Codes
---
You can find common Chevrolet Spark fault codes on this page that when clicked take you to a detailed description.
You can also type in the fault code you are getting below to find a more detailed description.
Search Chevrolet Spark Codes
Do you know the fault code already? Enter it in the box below and hit "Search Codes".
Chevrolet Spark Recalls
When a car manufacturer detects a problem with a model they put out a recall notice and more often than not offer to fix the problem free of charge.
You can check to see if your Chevrolet Spark has any recall notices on our sister site AutoRecalls.co, sorted by model year.
View Chevrolet Spark Recalls »
Common Spark Fault Codes
These are the most common Spark fault codes that people are searching for.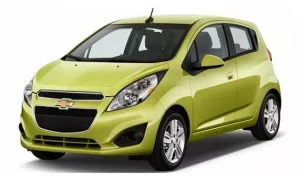 About the Spark
The spritely named Spark first made its debut under General Motors subsidiary brand GM Korea in 1998. The model was then produced for over 20 years until it was discontinued in 2022.
During its time on the market, a total of four generations were released. The last of these was released in 2015.
Just before this time, GM released the all-electric Spark EV version for the United States market.
Among the model's competition, the most prominent include the Hyundai i10, Kia Picanto, Nissan Micra, and Mitsubishi Mirage.
One of the most common issues that the Spark faced while on sale is P0700. This code indicates that there is some malfunction in the transmission control system. This typically only affects models fitted with automatic transmissions.
This code usually requires a more advanced scanner to read additional transmission-related fault codes to solve.
Fault code P0597 is another common problem. This code is logged when the thermostat heater circuit has an issue. This is typically the result of an open circuit.
In most cases, the solution for this fault code is simply replacing a faulty thermostat. Unfortunately for Spark owners, the electronic thermostat used in the vehicle is not as cheap as its conventional counterpart.
Another electrical issue that owners have had to deal with is P0341. This code indicates that the camshaft position sensor is sending a signal that is out of the allowable range.
Again, this is typically fixed by replacing a faulty camshaft position sensor. It is important for owners to address this issue as it can hide more serious timing issues that can cause serious problems.