You can find common Buick Encore fault codes on this page that when clicked take you to a detailed description.
You can also type in the fault code you are getting below to find a more detailed description.
Search Buick Encore Codes
Do you know the fault code already? Enter it in the box below and hit "Search Codes".
Buick Encore Recalls
When a car manufacturer detects a problem with a model they put out a recall notice and more often than not offer to fix the problem free of charge.
You can check to see if your Buick Encore has any recall notices on our sister site AutoRecalls.co, sorted by model year.
View Buick Encore Recalls »
Common Encore Fault Codes
These are the most common Encore fault codes that people are searching for.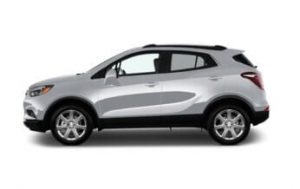 About the Encore
The Encore first made its debut in the Buick family in 2012. Since then, there have been only two generations to hit the North American and Chinese markets.
The second generation was released in 2020. A few years after this, General Motors announced that this would be the last version of the Encore after unveiling its planned discontinuation after 2022.
With no successor, the Encore GX took over the reins as the entry-level model in Buick's all-SUV lineup.
Competition from outside of Buick comes from the likes of the Chevy Trax, Hyundai Venue, Kia Sportage, and Ford EcoSport.
Encore owners have reported that P0299 is one of the most prominent issues. This code indicates that a low boost condition has been detected from the turbocharger system.
This code was highlighted in a technical service bulletin (TSB). The bulletin indicates that the cause is a loss of wastegate preload. The TSB gives more information, but it likely requires a new turbocharger.
Another common issue for the Encore is P0171. This code indicates that the engine is running too lean. This means that there is too much air or not enough fuel in the air-fuel mixture.
This code is fairly broad in nature, meaning that owners should always look for additional codes that can help pinpoint the true cause of the issue. This can typically range from anything between faulty fuel injectors and air intake leaks to failing sensors.
The next most common code could also be playing a role. Fault code P0106 indicates that there is an issue with the MAP sensor signal.
This can typically be attributed to a failing MAP sensor, which should be replaced. It can also be the cause of other codes like P0171.