On this page you can find the meaning of the fault code you may be seeing coming from your Pontiac.
Either choose your model from below or scroll down even further to search and see popular fault codes across all Pontiacs.
Pontiac Models
(click your model)
Search Pontiac Codes
Do you know the fault code already? Enter it in the box below and hit "Search Codes".
Popular Pontiac Fault Codes
These are the most popular Pontiac fault codes that people are searching for.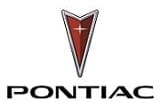 Pontiac was a performance brand operated by General Motors during the later-half of the 20th century with many famous lines.
You may find that some of the common Pontiac fault codes are also more often seen on GM brands such as Chevrolet and Buick too.
Plugging an OBD2 reader into a modern Pontiac will probably bring up the P0641 error code as this is common among them. This code is representative of a short circuit between the different modules in the car. These modules include the ECU and the ECM along with others that control different parts of the car's electronics.
Alongside the P0641 error you may also experience the P0401 code too. The P0401 fault code is triggered by the gases expected from the EGR (exhaust gas recirculation) being too low. This is either a faulty sensor or because the EGR valve is stuck in the closed position. This is common because the grime that builds up in the EGR can cause the valve to stick in the open and closed positions. Cleaning the valve itself by removing it from the engine may fix the problem and breathe new life into the car.
Alongside these 2 common Pontiac fault codes is the P0420 – triggered by the ECM believing that the catalytic converter is not doing its job properly. It measures this by sensing the amount of oxygen in the gases after the catalytic converter in the exhaust. Although, this P0420 error code may be the sign of a damaged sensor giving off a false reading also.