On this page you can find the meaning of the fault code you may be seeing coming from your Mercury.
Either choose your model from below or scroll down even further to search and see popular fault codes across all Mercurys.
Mercury Models
(click your model)
Search Mercury Codes
Do you know the fault code already? Enter it in the box below and hit "Search Codes".
Popular Mercury Fault Codes
These are the most popular Mercury fault codes that people are searching for.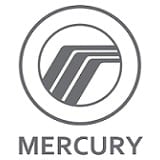 Mercury was a brand of car manufacturer started and operated by Ford by the original founder's son. It was designed to offer Ford models at a slightly more upmarket level and was run closely with the even more premium brand Lincoln.
You may find many of the same fault codes appearing between these three brands up until the Mercury was discontinued in 2010.
Common codes such as the P1450 can appear which is when the car is trying to tell you that the fuel tank is overpressured. This can be the result of a faulty fuel pump or valve that is stopping the fuel from entering the engine. This system is in place to avoid fuel vapors entering the atmosphere.
Another common code in Mercury models is the P1151 which is indicative of a lean fuel/air mix at the oxygen sensor in bank 2. A lean fuel/air mix contains too little fuel and too much air. Running the engine in this situation can lead to misfires and a lack of power and possible damage. A faulty sensor can also be the cause of this P1151 issue too.
If you find that the P1506 error code is present when you plug an OBD2 reader into your Mercury then you have a problem with the idle air system. A faulty valve is most probably the culprit here which is struggling to control the air entering the engine while the car is idling.