On this page you can find the meaning of the fault code you may be seeing coming from your Infiniti.
Either choose your model from below or scroll down even further to search and see popular fault codes across all Infinitis.
Infiniti Models
(click your model)
Search Infiniti Codes
Do you know the fault code already? Enter it in the box below and hit "Search Codes".
Popular Infiniti Fault Codes
These are the most popular Infiniti fault codes that people are searching for.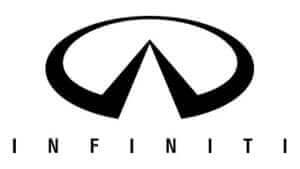 Infiniti is the luxury wing of Japanese automaker Nissan. Established during the 1980s, this brand markets premium versions of its parent company's diverse range of automobiles.
Although Nissan and Infiniti are known for their reliability you can still expect to see several fault codes during the lifetime of your model such as the C1109. If you see the C1109 code appear on your OBD2 reader while plugged into an Infiniti then it means that there is a problem with the ABS. More specifically it indicated a problem with the ABS modules actuator – a component that turns an electrical signal into a mechanical one.
Another common fault code seen in Nissan and Infiniti models is the P0011, indicating that the camshaft sensor is detecting the spinning part in the engine to be out of sync. The engine uses this signal to ensure that everything is running correctly and with this sensor registering a problem you may find that it is running rough, lacking power and could be possibly damaging itself while continuing to run.
Finding the P0106 error code that appears on your Infiniti means that there is an issue with the pressure being sensed in the manifold. High pressure is kept inside of the manifold to ensure that the fuel/air mix can be efficiently run through the engine and with low pressure you may find the car being to suffer from a lack of power. Fixing this P0106 problem can be as simple as resecuring a loose hose but could go as far as being a faulty fuel pump or even a blocked fuel filter.