On this page you can find the meaning of the fault code you may be seeing coming from your Audi.
Either choose your model from below or scroll down even further to search and see popular fault codes across all Audis.
Audi Models
(click your model)
Search Audi Codes
Do you know the fault code already? Enter it in the box below and hit "Search Codes".
Popular Audi Fault Codes
These are the most popular Audi fault codes that people are searching for.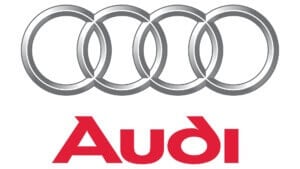 Audi is the luxury wing of Volkswagen, acquired by the German automotive behemoth during the 1980s the brand went on to become a huge name all around the world.
As the technology inside of every Audi is shared with its parent organization you will most likely find many of the same fault codes shared between them.
Some of the most common Audi error codes that we find people are searching for include the P0456. If you find the P0456 code pop up on your OBD2 reader then it could be a sign that there is a leak in the system that mixes air and fuel. Luckily there are several easy solutions to try before seeking a mechanic such as making sure that the fuel cap is on tight and that there is no loose hoses around the airbox near the engine in your Audi.
Another common code we find is the P0299 – this is associated with the turbocharger/supercharger and is found on pretty much all diesel engines sold by Audi and many of the gasoline-powered models too. The code is informing you that the boost is lower than what is expected by the ECM (engine control module) and could be caused by a faulty turbo, loose pipe or even a faulty sensor.
Finally, we see a lot of people searching for the P0437 fault which is caused by a sensor in the exhaust detecting a high level of pressure than what is considered normal. If the sensor is working properly (and it isn't sending the wrong information to the ECM) then you could have a blockage in your exhaust reducing the flow of the gases from the engine.